What is the lifeblood of a business? Leads.
Leads can be potential customers that you can convert into sales and profit. Leads aren't all the same. Each person has their own needs and expectations. They may not be at the same point in the buyer's journey. One person might be just curious about a product, while the other might be ready to make a purchase.
You can sort your leads into sales qualified leads and marketing qualified leads (MQLs). This allows you to nurture each relationship more effectively. It is crucial to know which lead category they belong to so that you can move them along the sales funnel.
Let's discuss the differences between MQLs & SQLs, and then we will look at ways to optimize landing pages for each.
MQLs vs. SQLs

Leads are often referred to as if they were all the same.
However, MQLs as well as SQLs are not the same thing.
MQLs could be viewed as leads generated by marketing efforts. SQLs, on the other hand, have already been passed to the sales team. Their readiness to purchase is the main difference.
An MQL is interested, but not hooked

MQLs refer to contacts who are interested in your marketing offers. This lead has engaged your brand intentionally, whether it's by downloading a resource or visiting your website repeatedly.
MQLs are still new to the buyers' minds, but they have already been shown interest.
You should be careful about how you approach an MQL. You should not push them too hard if they aren't fully committed. Repeat visits and downloading free resources like white papers might help an MQL get closer to becoming an SQL. However, it's not possible to guarantee their actions will transcend curiosity.
An SQL is almost ready for purchase

SQLs are most likely to buy the products or services that you offer.
The SQL may be vetted by your sales team and stamped as serious buyers. The sale is only one step away and the SQLs' willingness to buy makes them ideal candidates for sales engagement. They are nearing the end of their buyer journey and want to purchase.
This doesn't mean that they will be easy to sell. You still need to provide high-quality content, and communicate with respect and tact.
Optimize your landing page based on your lead

A key part of any business's strategy is optimizing their landing pages. You want to maximize the opportunities to convert traffic into leads and customers.
These are some tips to optimize your landing page for MQLs or SQLs.
How to optimize for MQLs

MQLs are interested in your product or service, but have not made the next move.
How can you convince them that you are worth it? Show them that you are worth it by showing off everything on your landing page.
Are you selling project management software Great! Let them know what makes your product special. Are you able to make task tracking less stressful? How about creating customizable workflows?
This is precisely the type of information we want to learn:
ClickUp does an excellent job of showing that their platform can do it all. ClickUp's landing page clearly positions it as a replacement for other SaaS or project management software. They even offer a demo preview of their software to demonstrate how it works.

Social proof is another way to convince MQLs that other people who have used your product or service love it. Below is an example of a satisfied customer.
Although you want to entice your customers, don't overdo it by using pushy copy. MQLs shopping around may find a promotional landing page a turnoff.
How to optimize SQLs

An SQL is the decision to commit to your product or service. These guys, unlike MQLs are well-prepared enough to receive a sales push.
This allows you to be more persuasive in your language.
You can think more like a sales landing page. These pages are specifically designed to convert. The copy is clear, compelling, and includes a CTA.
This is a HelloFresh example: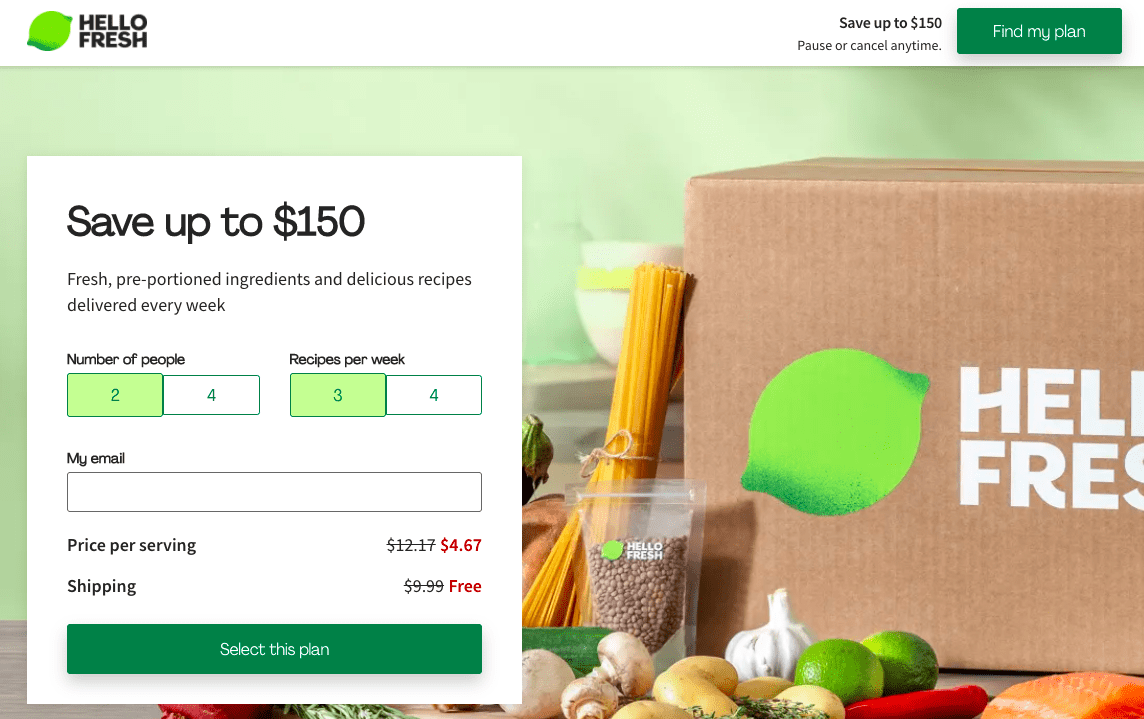 It makes it easy to order your next week's meals online. This page shows you the available options for a meal program at a reduced price. It's as easy as entering an email to get your customer on the right track to becoming a buyer.
SQLs are already familiar with what you have to say so you don't need too much to make them feel overwhelmed. To make sure SQLs are confident in their decision, we've briefly outlined the benefits.
To increase conversions, tailor your landing pages to get the right leads

You now know that leads are different and can strategize how to increase conversion rates.
You can convert qualified leads by capturing MQLs and nurturing these MQLs into SQLs. The main difference between MQLs (Male Qualified Leads) and SQLs is their intent and desire to buy. SQLs may need more information.
Landing pages are a great marketing tool that allows you to collect data from your visitors and then generate MQLs or SQLs. It is important to create landing pages that are effective.
Are you sure that your landing pages are strong? Do you have the right data? Are you converting your traffic?
There is an easy way to ensure your landing pages perform at their best. Smart Traffic allows you to easily create landing pages that are relevant and helpful for your buyers based on their stage in the buyer's journey.
Did you miss our previous article…
https://onlinemarketingagencies.net/5-steps-to-an-engaging-content-curation-strategy-designed-for-b2b-marketers/