Are you looking for ways to increase engagement on Instagram?
You can connect with your customers using Instagram. It is a great visual platform for businesses with more than 300 million users and nearly 85 million videos and images uploaded each day.
You can market your business successfully if you are able to increase your Instagram reach. Many marketers fail to achieve the level of engagement they desire on Instagram.
This blog is for those who are also troubled by the low engagement on Instagram.
You can find proven ways to increase your Instagram followers and market your brand on Instagram.
How can you get more engagement on Instagram

1. Optimize your Profile

Your profile should be well-optimized to show your potential followers who and what you are.
Choose a username that is simple to remember and searchable. Your business name should be your username. Your business name may already be taken. If so, you can keep your business name in your username as the first part. This will make it easier for people to search for your business.
Also, make sure your profile picture is consistent with your social media profiles. This will allow you to maintain brand consistency across all platforms and won't confuse your followers.
It is also necessary to convert your Instagram account into a business account. This will allow you to unlock many additional features that can help you grow your business.
Make sure that your profile is visible to the public. A private account is the worst thing for your engagement. Hidden from potential customers won't help you grow.
2. Updating your bio

Optimizing your profile includes updating your bio.
Add relevant information to your brand to your bio. Include information that lets people know who you and your business are.
These bio examples will inspire you:
@Staples: We make it easy for #MakeMoreHappen
@wdywt
@caratlane: Making Beautiful Jewelry Accessible is our obsession #CaratLane
This space can be used to display a call-to-action, branded hashtags and links to your website. It is important to link to your product page, especially if most of your traffic comes via mobile devices. Your followers will be able to easily visit your website and purchase your products. This is a great way to increase your Instagram reach if you don't already know this.
You can then enable notifications to see who has commented on your photos or shared them. This will enable you to interact with them faster. Go to options, then select Push Notification Settings. Choose from all categories.
3. Post Consistently

You want to increase engagement on Instagram so you should post regularly. Your followers will notice you more often if you post more frequently.
Consistent accounts not only keep your followers coming back to you, but also make it easy for profile visitors to find you. Consistency shows that you care enough about your followers to share valuable content on a regular basis.
Maintaining consistency does not mean you should bombard your feed with poor content every hour. Quality is not sacrificed for quantity.
You might overload your followers if you post too many content. To maintain a healthy feed, it's best to limit your Instagram post frequency to two per week.
You should also create distinctive elements for your account. You will be able to establish a distinct profile within your niche by being consistent in the content of your photos, how you use filters, and the captions you give your photos.
Last note: The goal is to make sure your photos are visible in the feeds of your followers so that they can interact with you. Your brand will be more visible to your followers if you post more.
You can schedule posts using a social media scheduling tool to make it easy to post regularly and save time. This is the fastest way to build a community and a loyal following.
Do you struggle to publish your content at the right time for your audience? For multiple clients, it has been a struggle to keep to an Instagram posting schedule. But not anymore!
SocialPilot's Instagram scheduling tools will provide you with the best assistance. It schedules all content types, including reels, stories and posts, from an integrated dashboard.
Start your 14-day trial
You can schedule any number of posts you wish in advance, and then forget about them. SocialPilot will manage their timely publication.

4. The Perfect Time to Post


You need to be aware of two things before you post on Instagram: your audience's time zone, and the time they check Instagram most often.
Most users prefer to use Instagram in the morning or evening. If your business is international, you might consider posting in different time zones.
Instagram is not for everyone. Your audience will determine your personal best time. For deep analysis, make use of Instagram analytics tools. Be aware of when your audience is most active online.
You can test how your posts perform at different times throughout the day to determine the best time for you to post on Instagram. You will notice that content published in the mornings earns more likes and comments than content posted in afternoons or evenings. Set your content sharing schedule accordingly.

5. Reorder the Filters


Insta filters are fun! The right filters can help you get more engagement and views.
It has been shown that filtered photos have 21% higher viewing rates and are 45% more likely for comments to be made than unfiltered. It would be a good idea to find out what works best for your business.
If you use Instagram often, you may have some favorite filters that you use every day and others that you don't touch as much. You can arrange the filters in your editing panel to make it easier to edit photos. You can then prioritize which filters you use most.
Simply hold your fingers down, drag each filter one by one to reorder.
After you have tried a few filters it is advisable to pick one and use the same filter each time. Your post will be more distinct, relatable, and easily recognizable if you stick to one filter.

6. React to Your Followers


Engaging your audience means responding to all comments, positive or negative. You should also thank them for leaving kind comments and for sharing the tag with their friends. If people comment on your photo, or ask questions about your business, reply to them. It sends the message that your are not interested building a community if you ignore their comments.
Show them you care about their opinions. If they have any relevant information, respond to their comments and follow them back. This will help you build strong relationships and increase engagement.

7. Make use of Captions


Photos should show what your followers can expect from you. Show your book's cover, or take a picture of someone reading it. You can share your products with a beautiful background if you're in the eCommerce industry.
Your photo captions play an important role in increasing your Instagram engagement, even though Instagram is a visual platform.
Your followers will be compelled to look at your beautiful photo and pay attention. However, strong captions will allow you to market your intention and sell your products. Your caption is what draws your followers to your profile.
The caption should include a call-to-action at the end. What that call to action is, depends entirely on what your post's intent was.
Use captions that ask questions to increase your likes and followers for your Instagram photos. This is a great way not only to get more likes and followers, but also to increase engagement through comments.

8. Use quality hashtags


Instagram allows 30 hashtags per post. However, you can use hashtags more effectively by keeping the captions to three.
Using the hashtag relevant to your post's captions will make it more visible to a wider audience than your followers. You can also use popular Instagram hashtags depending on your industry to increase visibility for your photos.
Here's a tip:
Find out the hashtag that you should use to reach a larger audience and get the most engagement before using any hashtag. You can search the Instagram app's "explore tab" to find hashtags that your audience is using. It will display a list of similar hashtags when you search for any hashtag.
It shows me relevant hashtags like #contentmarketing, #blogging and #businesstips when I search Instagram for #contentmarketing.
Interesting Read: Your One-Stop Guide to Instagram Hashtags

9. Leverage Instagram tagging


You can also use Instagram account tagging to increase your reach and visibility among your target audience.
Account tagging is, as the name implies, tagging other Instagram public accounts in your organic posts to gain valuable engagement, impressions and comments.
You can do account tagging in two ways – mention tagging or image tagging.
Simply use @ to mention an Instagram account. The username can then be typed in the caption or comments to tag them. This is a simpler way to mention customer/client accounts in your posts.
To perform image tagging, you can also add multiple profile tags to your images. You will get a notification when you tag an account. Your post will appear in the "Tagged" section of both your profile and that of the tagged account.
The tagged section of your profile is a great place to store user-generated content you can use later through Instagram Stories.
Take a look at how Alfred, a Coffee brand uses the image tagging feature for promotion of its partnership with KylieCosmetics.
Don't let yourself get carried away by the temptation to tag everyone without a plan. This will make your account appear spammy.
Do you find it difficult to manage multiple Instagram account accounts and Instagram image tagging?
SocialPilot allows you to tag multiple Instagram accounts in your scheduled image posts. After scheduling your post, there is no need to go back to Instagram. You can tag your profiles in the image during scheduling to create Instagram-ready photos directly from SocialPilot.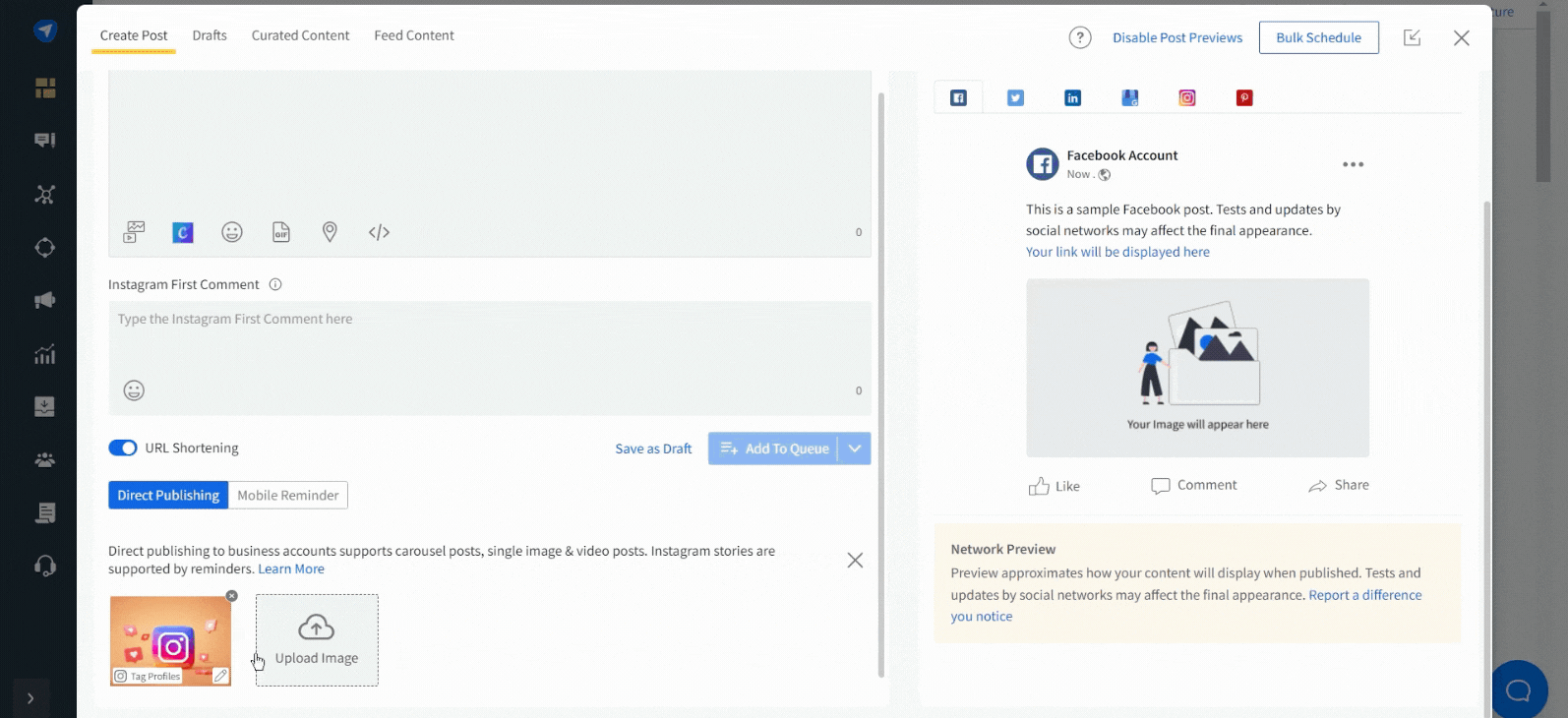 Start your 14-day trial
10. Make Videos Work for You

Instagram offers tons of features beyond just pictures. These include stories, reels, live and in-feed sharing video content. Your brand can use Instagram videos to make it stand out and connect with its fans.
Instagram isn't for the faint of heart. There are many creative ways to use Instagram videos to provide valuable content for your followers.
To increase engagement with your audience, you can present new products, answer questions, demonstrate company culture and share behind-the scenes moments.
Interesting read: The Complete Guide to Instagram Video: Stories, Posts, IGTV Live, & More
Conclusion
Instagram is a fantastic platform for branding, sharing and engaging with your business. Consider adding Instagram to your list of priorities if you haven't already.
When you are preparing your Instagram strategy, make engagement a priority and remember to include all of the tips that we have shared.
You can get more engagement on Instagram by creating authentic content that aims to connect with your followers. Your content should be ready to engage your audience in conversation in some way.
SocialPilot is a powerful tool that allows you to effortlessly manage your Instagram marketing. You can easily create, schedule, analyze, connect, and share your followers' messages all from one dashboard.
SocialPilot's first post, 10 Tips to Get More Engagement on Instagram, appeared first on SocialPilot.
Did you miss our previous article…
https://onlinemarketingagencies.net/?p=7367